Technological Educational Institute of Sterea Hellas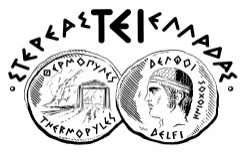 Department of Electronic Engineering
Physics Laboratory - Department of Electronic Engineering
Dielectric Relaxation Spectroscopy and Electric/Electronic Measurements Group
The group has been established at the Physics Laboratory of the Technological Education Institute of Lamia (TEI of Lamia) since 2006. The main research activity of the laboratory is focused on the study of the structure-property relationships in new technological materials and is carried out in close cooperation with several universities and research centers worldwide and in particular in Europe. The techniques used in the laboratory include broadband dielectric relaxation spectroscopy (DRS, 10-4 - 10 12 Hz) and differential thermal / thermogravimetry analysis (DTA/TGA).
Permanent Members - Research Staff
Athanasios Kanapitsas
Christos Tsonos
External Collaborators
T.E.I. of Lamia research group: Collaborators
Equipment
Laboratory instruments
Projects:
There is a Thales research project running since July of 2012. Details about the research teams participating can be found following the link.


News - Events
Please watch this space for news and events related to the laboratory.